Our certificates
Air Operator Certificate – AOC
An Airline shall have a valid AOC issued by the Department of Aviation of the Ministry of Transport and Communications of the Republic of Belarus that authorizes the Airline to conduct commercial air transport operations in accordance with specified conditions and limitations.
The period of validity is designated on the AOC and lasts for two years. After its expiry, it is being extended subject to the certification check of the Airline by the Department of Aviation.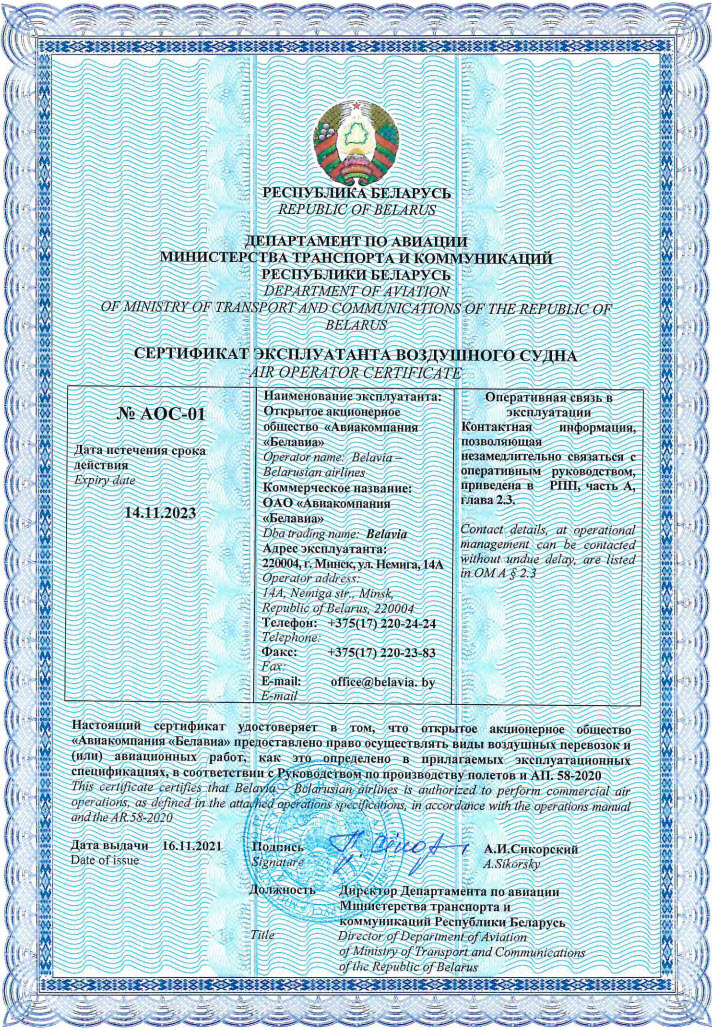 IOSA Certificate
The IATA Operational Safety Audit (IOSA) Program is an internationally recognized and accepted evaluation system designed to assess the operational management and control systems of an airline. The IOSA creates a standard that is comparable on a worldwide basis. All IATA Members must be compliant with IOSA standards and confirm their compliance every two years in order to remain registered in the IOSA Registry and maintain IATA Membership. (Belavia has been an Active IATA Member since 1997).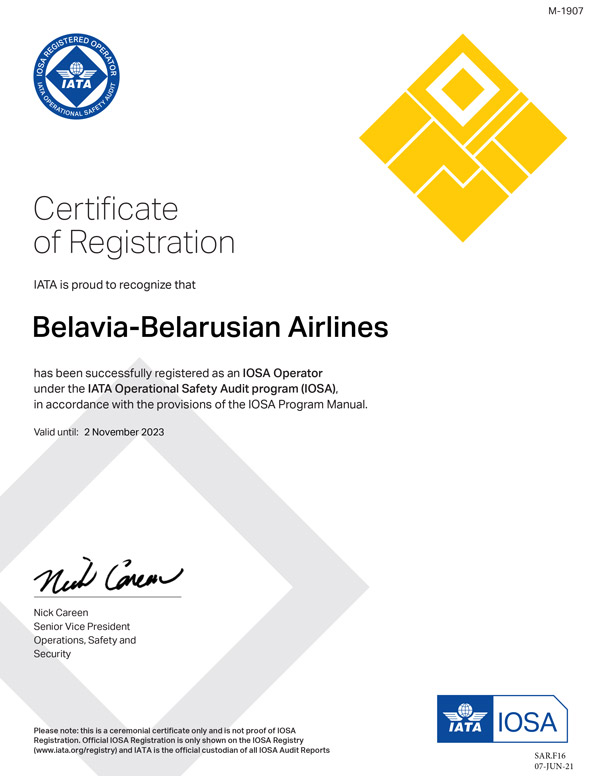 STB ISO 9001-2015 Certificate of Conformity
ISO 9001-2015 is a quality management standard. It defines requirements for a quality management system when an organization needs to demonstrate its ability to consistently provide products and services that meet customer and applicable statutory and regulatory requirements and aims to enhance customer satisfaction through the effective application of the system.
Belavia implemented STB ISO 9001-2009 Quality Management System for the first time in 2010.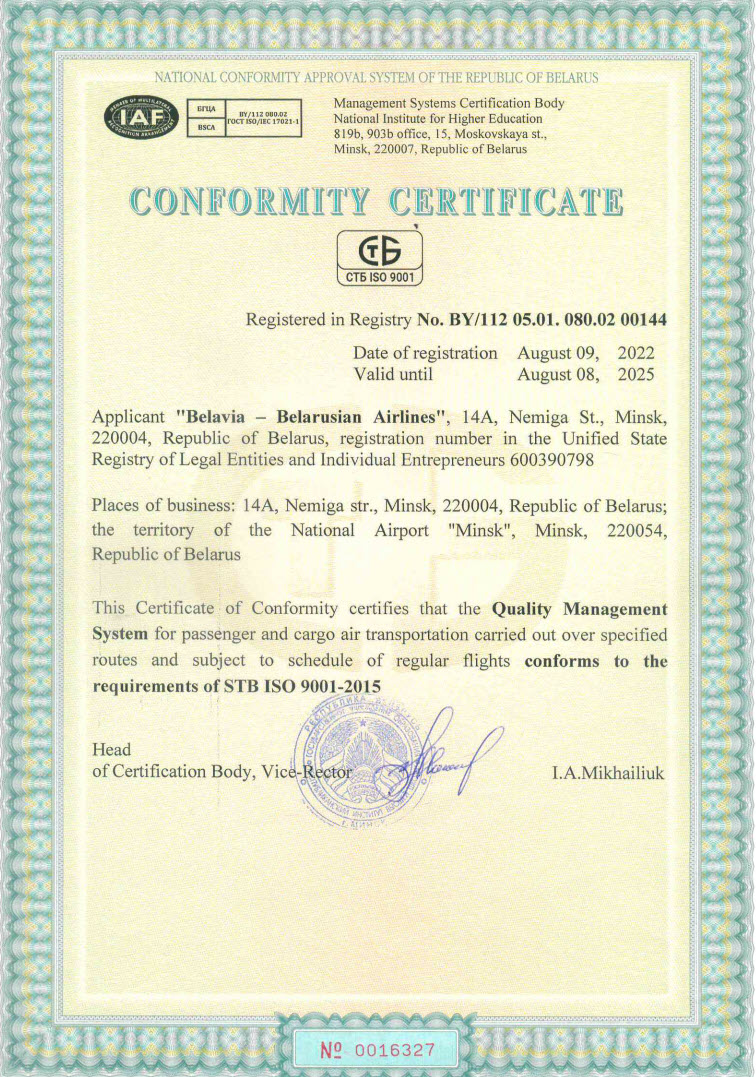 Maintenance Organisation Approval Certificate
Belavia Maintenance Organisation has obtained approval of the EASA (EASA – European Aviation Safety Agency) for line maintenance of aircraft that certifies its compliance with Part -145 of the EC Regulation № 1321/2014. The Certificate is valid for an unlimited period provided the Maintenance Organisation remains in compliance what is checked during annual EASA audits.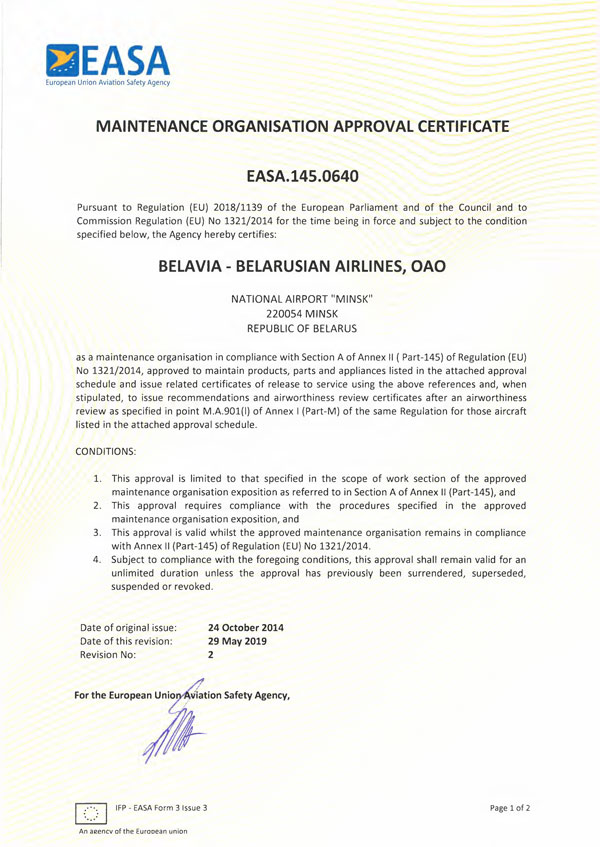 Maintenance and Repair Station Certificate
Airline's activity in aircraft and components' maintenance is certified by the Department of Aviation of the Ministry of Transport and Communications of the Republic of Belarus with the issuance of the Maintenance and Repair Station Certificate Nr. TO-01, which gives the privileges to perform the works listed therein. Certificate is issued for the period which is not more than two years with further prolongation under condition of the successful passing of certification inspection.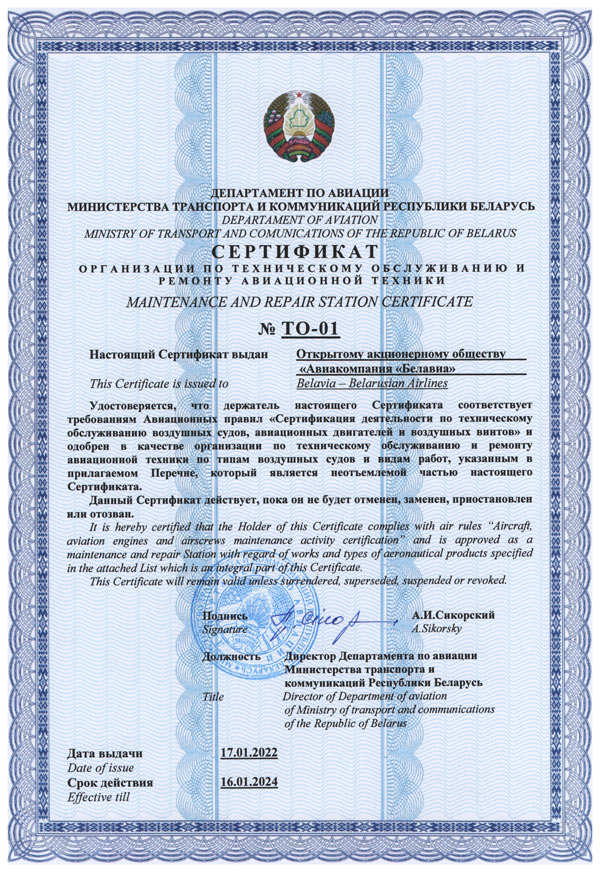 Occupational Health and Safety Management System - OHSAS 18001 Certificate
Belavia is committed to providing a work environment and systems of work that are safe and without risk to the health and safety of Belavia employees and contractors. The airline maintains and continuously improves a comprehensive Occupational Health and Safety Management System that embodies the principles of risk management to identify and control potential hazards in the workplace and ensure that all reasonable and practicable steps are taken to protect the health and safety of Belavia employees at work.
In April 2018, Belavia went through the process of STB ISO 18001-2009 certification and demonstrated its compliance with this standard.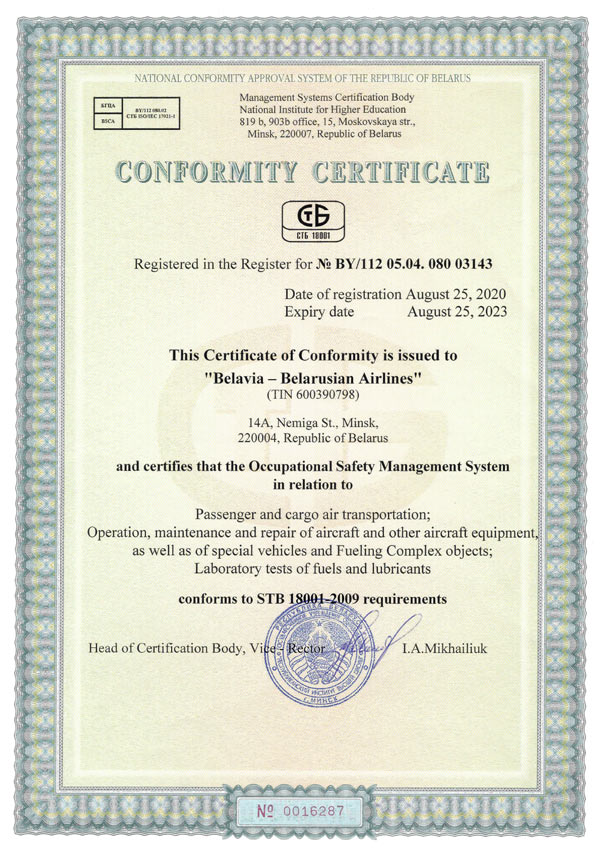 Environmental Compliance Certificate
Belavia is determined to manage and mitigate the impact from its operations on the environment, in particular, CO2 emissions and noise. The airline identified its environmental policy aimed at compliance with environmental legislation and standards and established best practices, including the use of environmental management system. Belavia has implemented the STB ISO 14001-2017 certified Environmental Management System.