Your baggage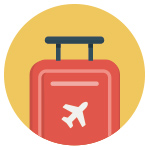 Baggage means items, things and other personal belongings of a passenger that are necessary or intended for wearing (clothing), use, comfort or convenience related to the travel of the passenger.
This meaning includes both checked baggage and unchecked baggage.
In order to ensure the safety of flights, all the things of the passenger (baggage) that are planned to be transported by aircraft should be presented for weighing and recording at check-in.
Special categories
Receiving of baggage at the airport
For each piece of baggage a baggage tag is attached with baggage receipt given to the holder of the baggage. A baggage tag receipt must be kept for baggage collection at the airport of destination.
The passenger responsibility for documents required for the baggage transportation
The passenger is obliged to comply with the Belarusian law, international treaties of the Republic of Belarus and the legislation of the country, to the territory, from or through the territory of which the baggage is to be carried, that are required for baggage transportation, the fulfillment of requirements for flight safety, aviation security, as well as with the requirements related to customs, quarantine and sanitary, veterinary, phytosanitary and other types of control.