Main
/
Services
/
Carriage of animals
Carriage of animals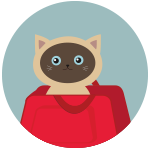 Animals are accepted for carriage only with the advance agreement of the airline and provided pet should be put into the aerate cage (special container/box/basket) with the waterproof bottom.
Carriage of animals should be accompanied by the following documents:
valid veterinary vaccination certificate;
microchip;
pet's passport.
international certificate that should be issued by the state veterinary station in the National airport "Minsk" (телефон:+375 17 279-12-15).
Pets under 3 months are not accepted for the carriage.
We pay your attention that there are strict rules for import of animals or even interdiction in some countries, that is why we recommend to inquire about the terms and conditions of traveling with animals in advance.
Observation of the destination country's laws and rules concerning import of animals is the obligation of the pet's master.
Belavia - Belarusian Airlines is not responsible for injury of the animal caused by its own behavior and the failure of the master to comply with the rules and laws of the destination country.
The transportation of live animals as cargo, luggage, carry-on baggage from the Republic of Belarus to the points on the territory of Great Britain (London, Manchester) on BELAVIA flights IS STRICTLY PROHIBITED.
The return transportation of live animals from Great Britain to the Republic of Belarus on BELAVIA flights is permitted.
Please, for more information please, address to the representatives of the airline..
Transportation of animals in baggage and hand luggage - tel. (375 17) 220-25-55, e-mail: support@belavia.by
Transportation of animals as cargo - tel. (375 17) 279-20-74, e-mail: cargo@belavia.by