Rail and Fly
In the framework of the National Airlins "Belavia" and German Railway (Deutsche Bahn) cooperation, the passengers of the National airlines having bought a ticket Rail & Fly, can get by train from / to any German city, as well as Swiss Basel and Austrian Salzburg at the German airports: Frankfurt, Hanover and Berlin.
A "Ticket Rail & Fly is a combined ticket that allows you to make air travel and follow the railway trains of any kind with the necessary transfers. .
More than 5,600 stations in Germany are equipped with ticket self-service stands of the German Railway (Deutsche Bahn) for issuing rail tickets Rail & Fly.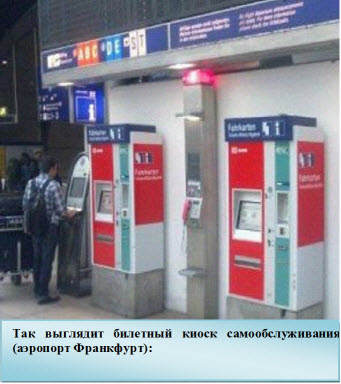 Time limit:
You may use your Rail & Fly ticket within 24 hours prior the departure of the aircraft from the airports of Germany, and within 24 hours after landing the aircraft.
The train number and time of its departure indicated on the ticket is not required.
The train schedule is available at DB-reisezentrum, in travel DB-Agency or at the web of Deutsche Bahn www.bahn.de.
Train type:
The rail ticket Rail & Fly is valid for all trains ICE, IC, EC, D, IRE, RE, RB, SB. The rail ticket Rail & Fly is valid for the City Night Line and ICE Sprinter trains provided with additional payment and booking.
This ticket is not valid for the trains Thalys , DB Autozug, special trains and trips of urban public transport ( U-Bahn, Bus, Strassen-Bahn) except the transfer transportation, for the trips on NE lines (non federal railway lines, private railway lines), for DB/SEA(joint with overseas transportation).
When choosing a train you should define the time of check-in deadline for flight in order to arrive at the airport in advance. You are advised to arrive at the airport 2.5 hours before the flight.
Point-of-sale terminals:
You can book and buy tickets Rail & Fly at the offices of airline "Belavia" or at travel agents.
Attention! This service is not available when booking and registration of the air tickets at the website of airline "Belavia" for a while.
Service class
Depending on the applicable tariff, the ground transportation by Deutsche Bahn is of the first or second service class.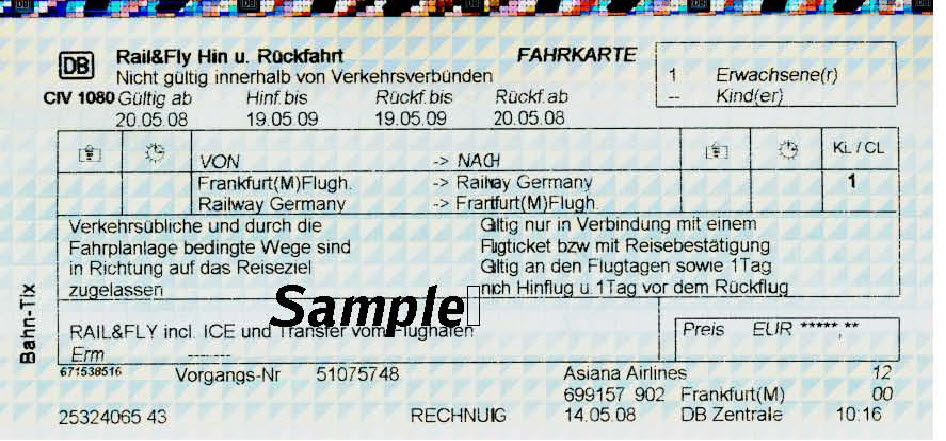 When buying the ticket you need to make sure that you have received the following documents :
Your printed booking of rail and air transportation.
Your printed electronic Rail&Fly ticket or mobile ticket*
The Рick-up number or DB-Auftragsnummer. When by booking, there are two railway directions; you will have two Рick-up numbers. When two or more passengers travel, each passenger will be given a separate Рick-up number for each direction. These numbers should be used to print the tickets at any Stand of Deutsche Bahn, but not earlier than 72 hours prior to travel. Closest stand can be found at www.bahn.de/railandfly.
The documents needed during your travel by German railway:
Valid Passport.
Your printed electronic Rail&Fly ticket or mobile ticket*.
Your printed booking of rail and air.
Your printed Rail&Fly ticket at ticket self-service stand. The passengers with printed train ticket Rail & Fly or mobile ticket* may travel .
The availability of pickup number gives you no right to railway travel .
* From October 2017 travelers can download their Rail&Fly ticket directly to smartphones. In this case you don't need to print a ticket any more. Online tickets on eTickets and mobile tickets can easily be downloaded from a website AccesRail Checkin-Website. Online tickets can also be transformed into mobile ones. Passengers just need to login into the system once again on the registration page and choose a new version for download.
You can receive the train ticket Rail & Fly at ticket self-service stand by the pickup number, or in a service center DB Reisezentrum..
The instruction how to get a ticket at self-service stands you can found here here.
Change of booking and refund:
If you decide to change the date of travel, you need to get new booking and to print e-ticket Rail & Fly.
If you change the date or travel direction the pick-up number or DB-Auftragsnummer remains valid.
If the train ticket is printed, then you should contact the agency DB-reisezentrum, where you will be issued a new ticket. You need to provide new booking. Old printed railway Rail & Fly ticket is not valid, you must print new ticket shortly before the trip .
ATTENTION!
Printed tickets on the railway are not a subject to return, compensation is not available.
Under existing rules of German Railway (Deutsche Bahn) if you lose a printed copy of the train ticket, it is not a subject to return.
If you cannot print the ticket at the railway due to:
Absence of ticket stands at the station for long-distance trains, you have to buy a ticket to the nearest station where there is a ticket stand. List of stations available on the website www.bahn.de/iataagents.

the location of train stations and ticket-vending machine you can find here.

The ticket stand does not work - there are several ticket stands at the most stations. If the ticket stand is not in working condition and you could not print a train ticket, you can get it in the local office of DB Reisezentrum or take a train without a ticket, be sure to notify the conductor of a technical problem. The conductor will give you a receipt for the payment of travel (Fahrpreisnacherhebung)
If you had to buy a new train ticket or you have been billed to pay for rail transportation due to technical problems, you should contact the airline office / agency where the ticket Rail & Fly was purchased. In this case you should submit the following documents to the agency of passenger transportation sale (14A Nemiga str., Minsk):
Original newly purchased train ticket or invoice for payment;
Printed booking and number of the electronic ticket Rail &Fly;
Order number of the train ticket.
If German railway confirms the technical problem, you will be paid back the cost of a ticket issued by the conductor of German Railway, or the invoice for payment will be canceled.