E-ticket Rail and Fly
Rail&Fly – is a combined ticket for railway transportation to an airport for a further international air flight. The provisions and terms of its use will be determined by your airline.
Picking up a Rail&Fly eTicket at DB vending machine (as from October 2010)
First screen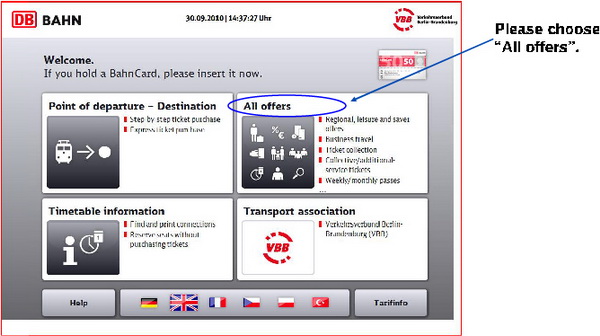 The way to your Rail&Fly ticket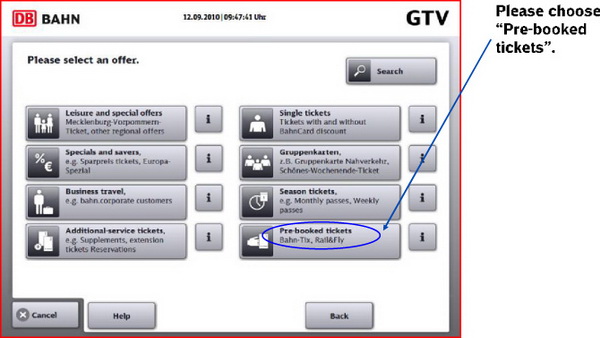 Your ticket is deposited for you at DB vending machine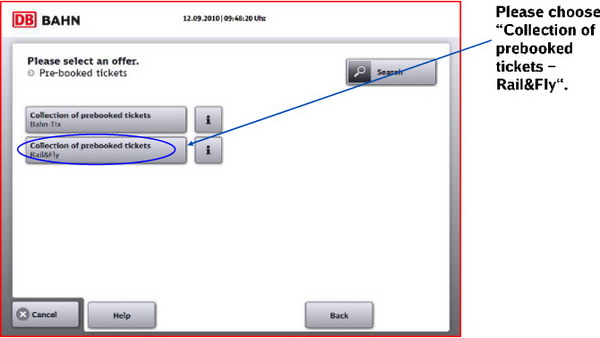 Entry of your Pickup-Number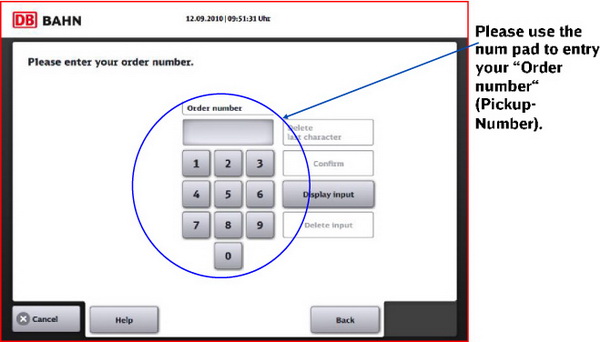 Entry of your Pickup-Number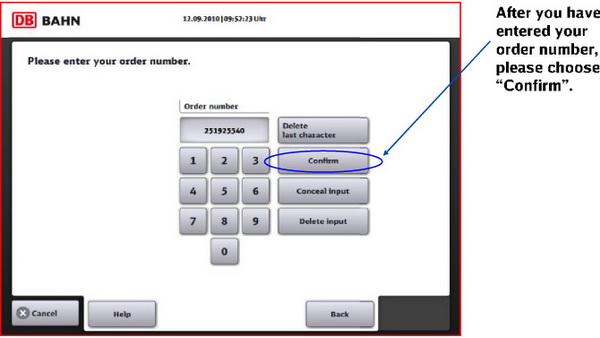 Your Rail&Fly ticket can be issued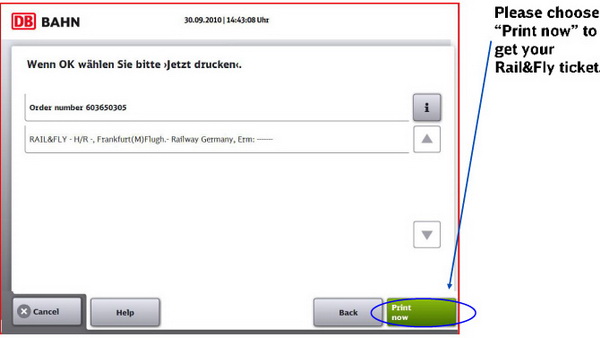 Your Rail&Fly ticket is issued now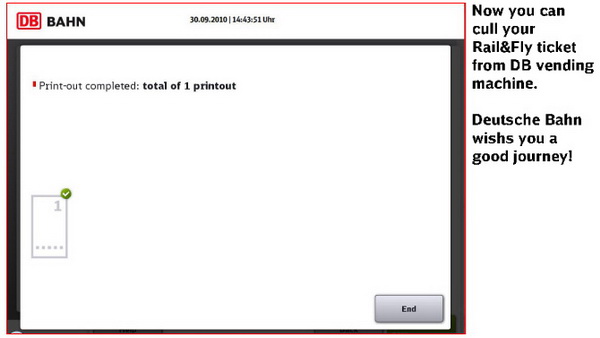 General provisions
Rail&Fly ticket is valid on the day of departure from Germany (and on the day prior to departure, if booked by the agent), on the day of arrival to Germany and on the following day.
Rail&Fly ticket is valid for travelling by all trains of DeutscheBahn (DB), as well as by trains City Night Line and ICE Sprinter, on condition of payment of an additional charge and booking
Rail&Fly is not valid for travelling by trains Thalys, DB Autozug, special trains or trains of transport associations
How to get a ticket
You can get your Rail&Fly ticket in any DB ticket-vending machine for long-distance transport 3 days prior to the beginning of your trip. To do this, fulfill the following operations
Choose the language.
Choose the option "All offer – Ticket collection", and then follow the instructions contained therein. Then choose the option "Rail&Fly"
For identification purposes, enter your order number (DB collection number) that you have received from your booking agency or airline.
Please, pay attention to how many order numbers you have received
If you have received two order numbers, it means you should receive separate tickets for a trip 'to' and for a trip 'fro'. Before the return trip, use the second number to obtain a return Rail&Fly ticket.
If you have booked a Rail&Fly ticket for a trip 'to' and for a trip 'fro' but you have been given only one order number, it means that you should receive one round-trip ticket for both parts of your trip. Keep your ticket safe until completion of your return trip.
Time of train arrival to airport and departure from airport
The time of train departure/ arrival indicated in your route documents does not always correspond to the schedule. For information on the time of a train departure/arrival on certain days of your trip, please, contact a DB Travel Center, a DB-licensed travel agency or visit the site www.bahn.de.
But before, please, check with your airline the check-in time for your flight – in order to be at the check counter two hours minimum before the close-out time.
Documents necessary for a trip
Rail&Fly ticket (must be printed out prior to boarding the train)
Route/Receipt for air transport (to be issued by your booking agent)
Identity card and/or passport
False data on a trip, ticket loss, technical problems
If you've changed your reservation, and the printed ticket has no new data on the trip, you must contact the nearest DB Travel Center and inform them on a new schedule (route) of your air transport so that the respective note is entered into your Rail&Fly Ticket (endorsement).
A lost ticket will not be restored.
Should any technical problems arise with the ticket-vending machine, contact the DB representative. If the ticket is not ready, first contact your airline. If the problem cannot be solved, board the train and inform the conductor on your problem.
Unused or partially used Rail&Fly ticket
From the moment you've received a Rail&Fly ticket, the return or rebooking of air tickets may be performed subject to certain conditions only. The conditions for rebooking or cancellation of air tickets may vary from airline to airline.
For more detailed information, please, contact your airline or booking agency. Contact that sales point where you have bought your air ticket – you are to present the original Rail&Fly ticket to the airline.
Attention!
Rail&Fly tickets are printed on heat-sensitive paper. Protect them from exposure to sunlight, moisture or heat sources.
We wish you a pleasant trip
Deutsche Bahn AG